JUJUMAMA
WEEKLY ASTROLOGY REPORT
WEEKLY ADDRESS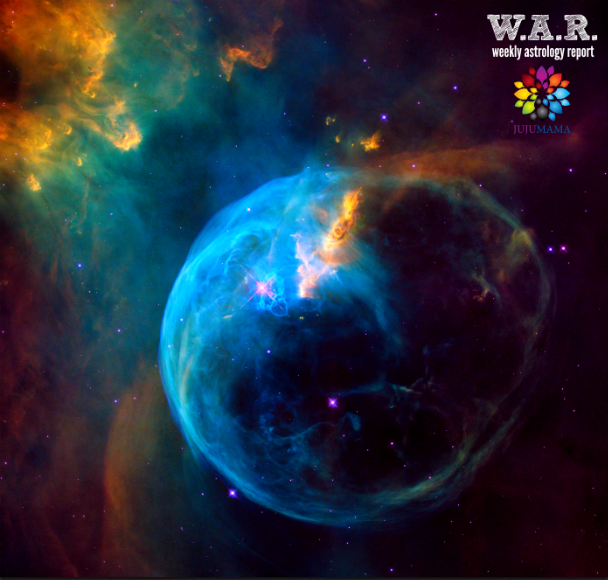 OVERVIEW
The WEEKLY ASTROLOGY REPORT (WAR) is a weekly podcast detailing the astrological influences affecting us for the upcoming week.

Purchase of this course allows you to hear the recordings of our weekly spiritual and astrological call. You also have access to all past calls in our archive. Each call is 60 minutes in length. There are four new recordings each month.
The Bagua Astrology System (BAS) is utilized to detail the changes in energy based on solar, lunar and other astrological influences.
Topics include understanding how the solar, lunar, and other planetary energies affect our lives and how we can navigate them for the upcoming week. We also discuss how your specific MIND, SPIRIT, and BODY archetypes are affected by these influences as well.

You'll receive weekly updates on the Sun Manifestation System (SMS) and Moon Manifestation System (MMS) as well to help you stay on track with your personal manifestation works.

Let's understand how the primary planets of:
--VENUS
--MERCURY
--SATURN
--MARS
--JUPITER
--MOON
--SUN
--PLUTO
--NEPTUNE
--URANUS
All play into our lives. We'll also discuss all the retrogrades and the solar and lunar eclipses as well. Lastly, we plan for the two equinoxes (spring, fall) and the two solstices (winter, summer).
All the tools needed to successfully navigate the astrological changes and shifts are given on this weekly call. A subscription to this podcast gives you access to all of the recordings since the inception of the program. Review the video files at your convenience.

To learn more about the Bagua System and Bagua Astrology, go to https://bagua.teachable.com. You can become a Student Member of the Bagua & Metaphysics School and have access to the following courses:
--Bagua Astrology
--Bagua Character Mapping
--Bagua Oracle
--Metaphysics
--Metaphysics of the Matrix
--The I Ching Oracle System
--The Metu Neter volume 1 Study Course

COURSE SPECIFICS:

Facilitated By: Carl E. Stevens, Jr. (Rakhem Seku)
Venue: Video Conference
Time: 1pm EST
Dates: Each Sunday