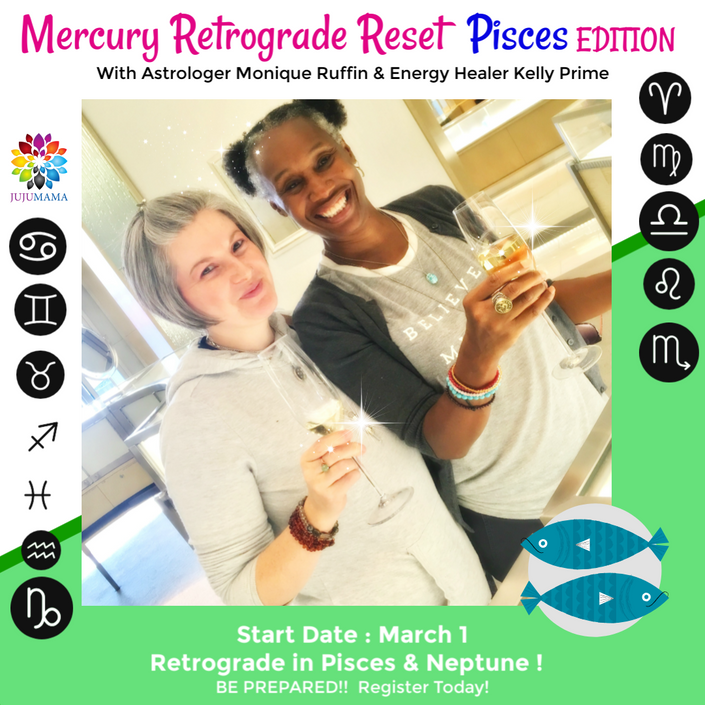 Mercury Retrograde Reset | Pisces Edition
Ignite Your Mystical Self!!
Do not let another Mercury Retrograde sneak up on you and kick your butt during Spring Cleaning! Now is the time to join up with a team of experts to take you safely through Mercury Retrograde while infusing you with the power and opportunities of this powerful and mystical time of Spring Cleaning!
When the retrograde happens, it matters - this Spring it occurs under the astrological sign of Pisces, giving us a unique opportunity to hone the powers of this astrological sign within! Pisces is about your psychic powers and mystical talents.
Mercury Retrograde reset is a FOUR-WEEK online course that begins March 1, 2019. We prepare our scholars for the retrograde by analyzing the current astrology and position of the planet Mercury in the cosmos and in YOUR chart, and sharing valuable tips, hints, clues and lessons on what the focus needs to be in order to master the call of the Mercury Retrograde energy!
Retrogrades were never meant to harm us. They are indeed meant to empower us! But unless one knows the lore and lessons the retrograde has come to teach, one might find themselves tossed to and fro in the winds of change instead of setting sail on the very same winds to expand and grow! Here are the specs for this coming retrograde March 1- April 1, 2019.
What is Mercury Retrograde......
Mercury Retrograde has long been considered a time of doom and gloom. We have been taught to fear disempowering things, interruptions or miscommunications that can occur during this time. The planet Mercury rules communication, short trips and technology. Mercury Retrograde occurs when the planet Mercury has the appearance of going backward.
Why are we doing this.....
We have created Mercury Retrograde Reset to help people align and learn to flow with Retrograde energies. Our system creates a way to navigate the retrograde energies with ease and grace like never before. No more blaming your communication snafus, technological breakdowns or mental sluggishness on Mercury Retrograde! Mercury Retrograde is two fold: the internal and the external. Each person internally embodies their own personal universe which mirrors what is also happening externally in the cosmos. Therefore, when Mercury goes Retrograde in the cosmos we are experiencing our own personal Retrograde within as well. Mercury Retrograde Reset is perfect for anyone who has ever struggled in any way during a Mercury Retrograde period.
What methods will we be using.....
Daily Astrological and Energetic Guidance via social media and email will be provided in the form of:
Planetary updates
Guided Meditations
Card Readings
Essential Oils
Crystals
Energetic Management
Individual Sessions
Who, Where, When?
This course is for anyone who has ever felt the effects of Mercury Retrograde consciously or unconsciously and knows that they are responsible for creating a different experience
This course will take place online in a private facebook group created specifically for this Mercury Retrograde Season in Pisces.
This course will take place March 1 - April 1, 2019.
COURSE DESCRIPTION
In this 4 week Mercury Retrograde Reset course taking place from March 1 - April 1, 2019, Astrologer Monique Ruffin and Energy Healer Kelly Lynn Prime will guide you through the bumpy and uncertain terrain of the current Mercury Retrograde season. Learning to navigate how your mind is being impacted by the Mercury Retrograde experience is a central theme. Mercury Retrogrades are a time for clearing out and renewing your mind which is ruled by the planet Mercury. This Mercury Retrograde in Pisces is all about renewing and reevaluating your mind about experiences of completion & releasing, mystic qualities of universal oneness & self responsibility and how to function effectively in the world with your psychic & empathic aspects of self. Teaching participants how to navigate the mind around these themes related to the astrological sign of Pisces will be emphasized. On the other side of this season you will be clearer, renewed and completely ready to take your life on with these new lessons learned.
15 Benefits of Mercury Retrograde Reset are:
Taking the doom and gloom out of Mercury Retrograde
Teaching people how to use Mercury Retrograde energy to empower their lives
Understanding planetary energies and how they impact your daily life
Understanding how Mercury influences our internal mind, reality & conversation and how we process the world externally thru our mentality.
Recontextualizing the myths around how Mercury impacts: thinking, communication, financial transactions, technology, contracts and short travel.
Learning how to go within (internal) for a season in order to reboot our personal energetic system (external).
Clearing out mental clutter and ideas that no longer serve
Creating space and plans for "do overs"... Reset, Reorganize, Redo, Rewind, Renegotiate etc.
Examining matters with children in our lives and how to relate to our inner child.
Examining matters of the heart and recalibrating matters of the heart, romance and partnering
Examining matters of creative self expression
Examining matters of communication
Understanding that it is easier to change your habits in this energy. New mantras adopted during MR are supercharged
Gaining mental clarity because Mercury rules the mind. A little introspection goes a long way.
Recognition that creativity and intuition are enhanced.
Curriculum Outline:
Theme 1- experiences of completion & releasing in life
Theme 2- mystic qualities of universal oneness & self responsibility
Theme 3- functioning effectively with psychic & empathic aspects of self.
Mercury Retrograde Reset will include daily astrological and energy outlooks, affirmations, rituals, and guidance via our private facebook group and email. It will also include guest speakers, individual exercises to work on, looking at the signs of the universe and how it speaks in different and unique ways for everyone. You are invited to enroll in this new way of seeing Mercury Retrograde as an empowering time to renew, reassess, realign, review and recalibrate YOUR LIFE.
PRICE : Original Price $199 | Special Offer Early Bird Price $99 (until February 15) Register Below. Original Price goes back into effect February 15
Your Course Instructors:
An astrologist, Monique Ruffin, is curious at her core. Since she was a child, she's loved nothing more than exploring human behavior, metaphysics, mystical arts and divine feminine magic. A native of Los Angeles, she attended Howard University in Washington D.C., earning a B.A. in Political Science and History. She received her license in Spiritual and Metaphysical Studies under the tutelage of Michael Beckwith at the Agape Institute. Her Master's Degree in Spiritual Psychology came from the University of Santa Monica under the direction of Ron and Mary Hulnick. Monique is also a writer and blogger contributing at Huffington Post, The Fine Line and Mom.me. She's a host of the radio show "Rise" with Monique Ruffin. On any given day, Monique will be at the beach with her son Zion surfing and body boarding. This is her church and how she connects with the Goddess within.
Kelly Lynn Prime, is a Clairvoyant, Clairsentient, Intuitive Yogi. She brings that magic with her into her Yoga classes along with her background in energy work. Her speciality is linking what is going on in the physical body to the energy body (Chakras) and thus the emotions. She is attuned with spirit animals, crystal energies and all things related to nature. Kelly also loves hearing about dreams and actively involving you in the interpretation. She is a trained Lifestyle Transformation Coach who will take you on a healthy eating journey through the grocery store while helping you to create new habits. Originally hailing from Michigan, Kelly has spent the last 12 years in the metaphysical gem of the South, Atlanta, honing her spiritual skill set. She has studied under Pranic Healing Master Hector Ramos, Metaphysical & Reiki Master Joyce Rennolds, Yogini Mimi Adeogba, Yogini Laura Clower and Anastasi Psychic Development Teacher Carl Woodall. Kelly believes in self empowerment and loves to assist people in deciphering their personal patterns and coding to promote healing. As a result, she guides her clients into rediscovering authenticity and unconditional love of self. Follow Kelly on Instagram and Facebook
Be prepared for this Mercury Retrograde and watch your life evolve!
Your Instructor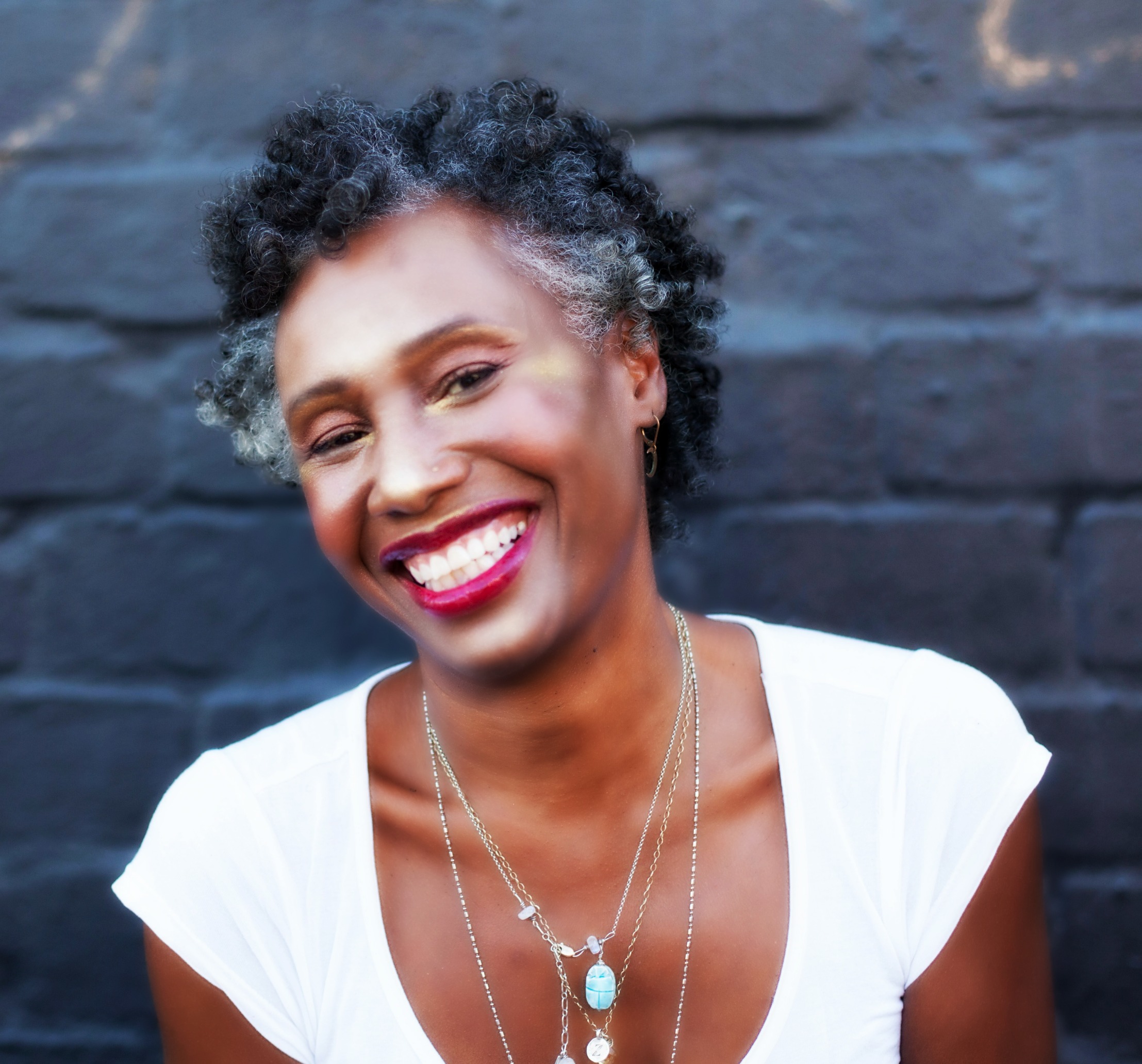 Monique Ruffin has studied with Dr. Michael Beckwith, of the Agape Center, Ron and Mary Hulnick of University of Santa Monica, Carl and Kenya K Stevens, of JujuMama LLC, and football great and astrologer, Ricky Williams. Each of these relationships has served to mentor her into the unique but ancient field of astrological coaching.
Course Curriculum
Mercury Retrograde Pisces Edition: The power in letting go
Available in days
days after you enroll
Frequently Asked Questions
When does the course start and finish?
The course starts now and never ends! It is a completely self-paced online course - you decide when you start and when you finish.
How long do I have access to the course?
How does lifetime access sound? After enrolling, you have unlimited access to this course for as long as you like - across any and all devices you own.
What if I am unhappy with the course?
We would never want you to be unhappy! If you are unsatisfied with your purchase, contact us in the first 30 days and we will give you a full refund.