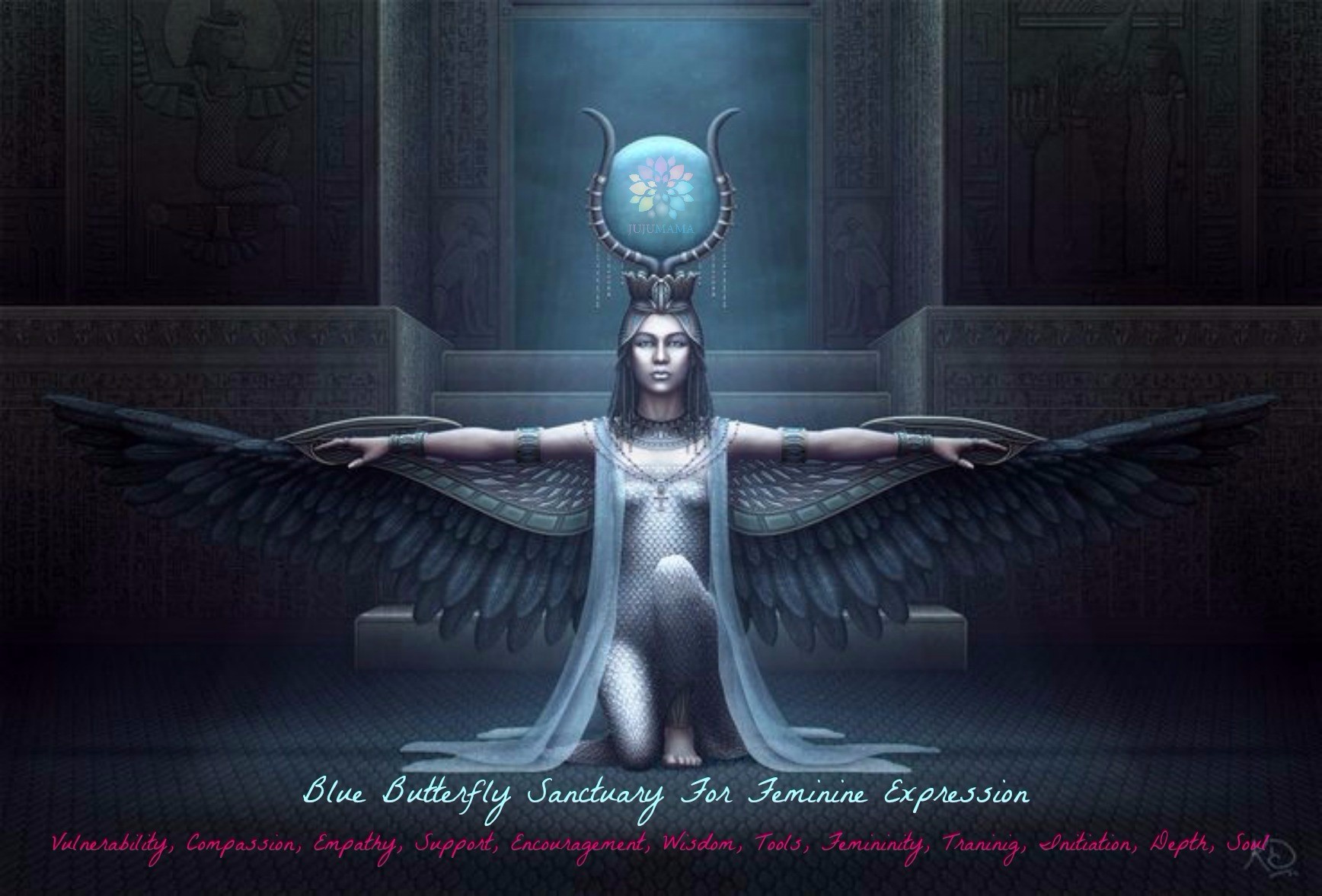 The Blue Butterfly Sanctuary
Welcome to The Sacred Order of the Blue Butterfly ~ Sanctuary for Feminine Expression!
Tap into your natural feminine powers, and enhance your ability to utilize the magical goddess archetypes in every aspect of your life! The Blue Butterflies meet and encourage one another daily in our secret group via Facebook. We are women, hundreds of members from all walks of life, BLUE Butterflies can be found worldwide! Our membership contains Progressive women of every age, "race" and sexual orientation!

Blue Butterfly Women come together to practice the art of femininity, vulnerability and surrender! We develop skills to tap innate feminine powers, as well as hone our power to create and achieve desired relationship and financial outcomes. All members have the same goal - to create our lives through the power and magic of the feminine. Once you join, you will be added to a secret Facebook group called Blue Butterfly Sanctuary!
One thing we achieve here is the ability to be where we are, emotionally. We practice the divine art of Acceptance and the Zen practice of Feeling the feelings and transmuting energy. This becomes the ritual, we use trance and mirror work to support our sisters, we hold space, create containers and allow the Deep Dive into the mysteries of feminine emotive power.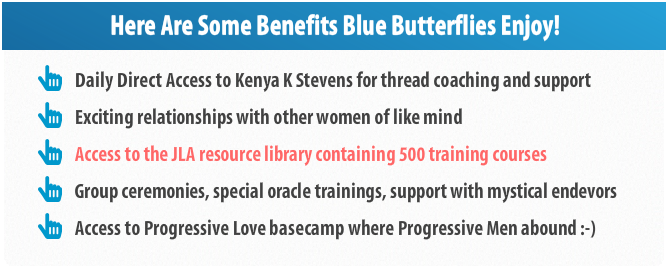 Whatever relationship, financial or spiritual concerns you might want support with, The Blue Butterfly Sanctuary can help!
We love supporting your sensuality and spirituality! The group is facilitated by Kenya K. Stevens, Master Love Coach, Archetypical Priestess, and JujuMama CEO/founder. You'll also be able to participate FREE in our live classes and ask questions and share your stories.
We look forward to having you. Come grow with us!
NOTE: With this purchase you also receive entrance into the JLA Resource Library plus our PL LIVE classes!
Entrance Requirement: There is an entrance interview process you'll have to undergo in order to cross into the Sanctuary. We protect the details of our member's lives with an interview process. Once you sign up you will receive an email about how to begin that process - it's fast! You'll be in before you know it. Thanks!
GOLDEN BUTTERFLIES ALSO RECEIVE SUN MANIFESTATION SYSTEM AND MOON MANIFESTATION SYSTEM!
Join Carl and Kenya K Stevens, founders of JujuMama Love Academy for one full year of magic, power and manifestation with the Sun Manifestation System™ created here at JLA!!! This special program offers 365 days of accountability, focus and support for YOU! You will be immediately thrusted into the program where more than 100 people will become new friends, and colleagues as you hold one another accountable for the year's manifestation work! You will be coached, and supported the entire solar year as you discover the ancient deity associated with each of the Solar seasons, nine in all!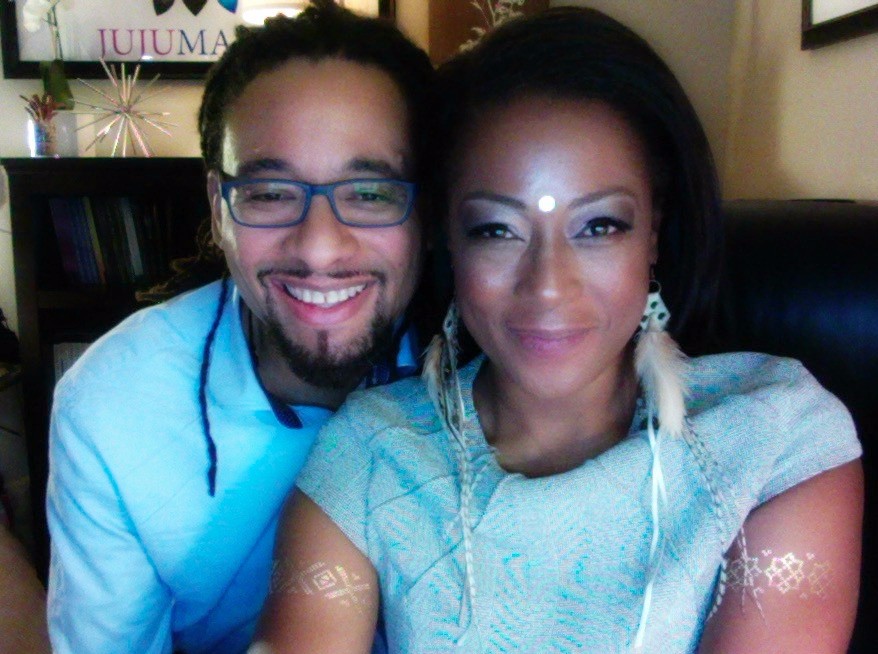 Scroll for a Few Testimonials!

With JLA Gold Membership you Get Turn Key Access to the most amazing Spirituality Academy Online! You will be treated as a VIP as you manifest TWO BIG DREAMS this solar year! The year begins September 21, but you can join this program anytime! It's great to begin at the beginning as you will be guided for 365 days to manifest your two objectives for the year!
Jujumama Love Academy has served the community for the past ten years! We have supported millions of people worldwide in OPENING THEIR HEARTS and MINDS to a new way of viewing love, spirituality, and human relationships!
There are AMAZING things happening here right now as JLA has expanded and is the most illuminating online spiritual center in the world! We invite you to take a peek at the NEW GOLD LEVEL MEMBERSHIP!
Also Receive ONE COACHING SESSION LIVE each month via phone!!!!
All it takes is 365 days for you to grown in the areas of love, relationships, self-empowerment, metaphysics, and create the life you desire for yourself. The Academy offers a plethora of tools to support you in achieving your personal relationship, financial, and spiritual growth goals.


Once you join at the GOLD LEVEL MEMBERSHIP - You'll be immediately added to our Facebook Groups for your membership level. There are literally hundreds of fellow Progressive waiting to meet you and hear your stories. In our private groups and forums we go over what we've discovered in our courses and apply the information to real life.
You'll have your choice of these five groups.
Join ONLY the ones you are interested in:
The JLA GOLD membership is our Top Shelf Membership! Enjoy your VIP status! There will always be a coach LIVE in the group to respond to any questions and support you all the way through the 365 day process! Our private groups are a riot! You will have full access to Kenya and Carl Stevens in JLA Private Groups!
JLA private groups have always been wild because we invite organic shares and experiences! However, we keep the wild activity and play tucked away at the Progressive Love BASECAMP while we have serious activities taking place in both the Sun Manifestation Room and the Business Incubator Groups!
The Gender Based groups - Peaceful Warriors and Blue Butterfly Feminine Sanctuary are relaxing and peaceful, we support one another there and let the bonds grow deep as we enjoy community!

OR Choose not to be in any groups on Facebook with the community. Be as quiet as you wish - as quiet as a mouse in our JLA Resource Library, where over 1500 audio and video recordings waiting for you ~ with new ones being added each day! These are in the following categories:
THIS IS A ONCE IN A LIFETIME OPPORTUNITY TO BE GUIDED INTO FULL SUCCESS NO MATTER WHAT YOUR OBJECTIVE! Take advantage of this AMAZING system!!Register Now!


Here is a sample of how the back end looks and feels...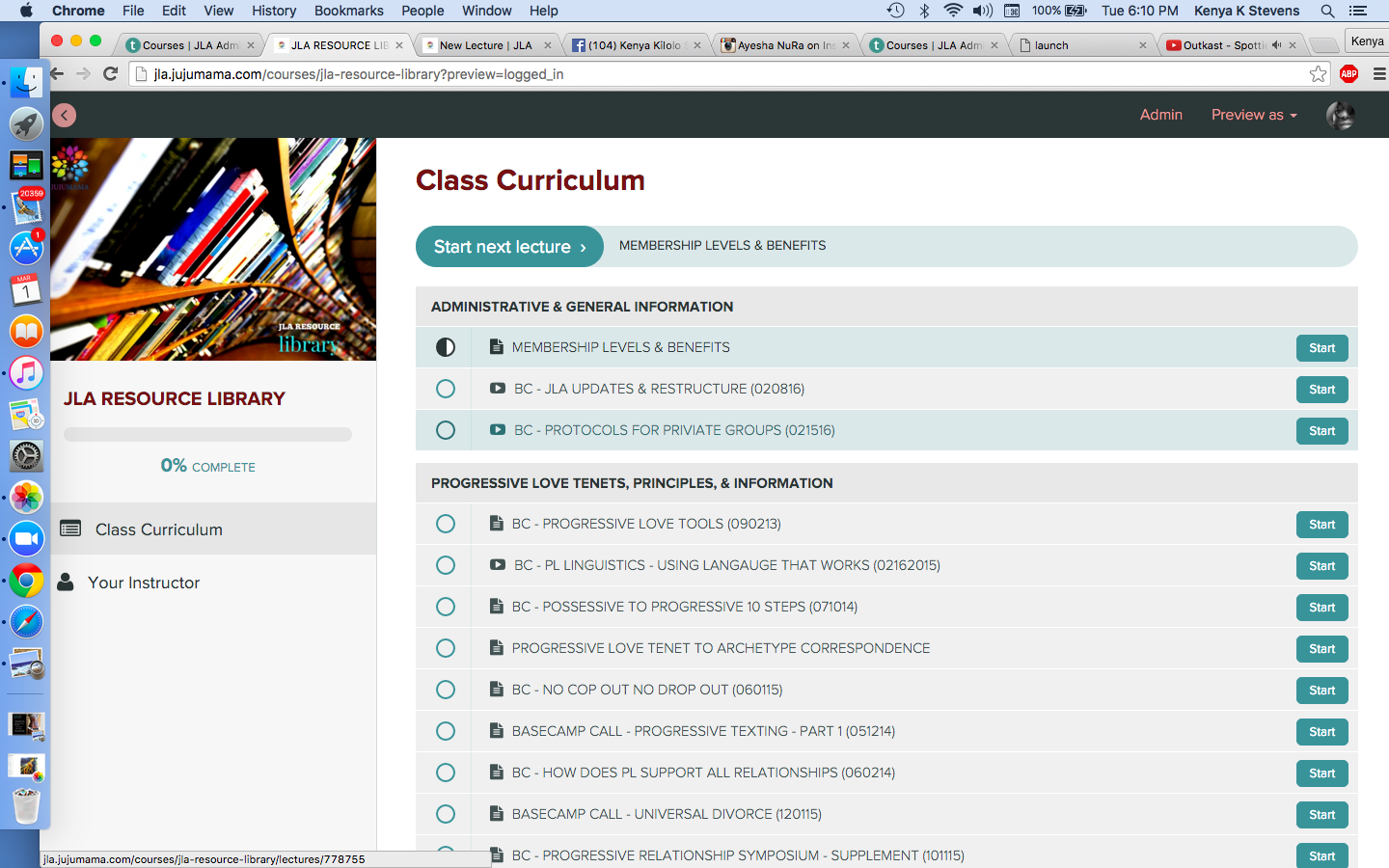 And it goes on and on... with 1500 total recordings and tools to choose from all neatly organized just for you! Check out the way the videos come up with the content for you to click and watch, as easy as 1,2,3!
If you have not been around JLA for some time, I'm sure you can see things have changed. We have formally created one of the largest bodies of work on modern love and manifestation that currently exists. We provide top of the line love coaching, certifications programs and online workshops!

If you are looking to become a practitioner, entrepreneur, or coach, GOLD MEMBERSHIP is most assuredly for you!
We are the World's Largest and Online School for New Paradigm Arts - Manifestation - Relationships!
We need all the professors we can get! Check This Out!
YES YES YES! You can teach here at JLA too! But only by obtaining your GOLD MEMBERSHIP and getting your brand together ~ which Gold Membership affords you!
If you're not as interested in formulating your own brand, but you are interested in making revenue - You can Instantly request being added to JLA Affiliate Program when you become a GOLD member!It's FREE and all you have to do is take the user test and get started posting your links! ANY link you post to ANY of our courses are immediately paid out to you - direct from PAYPAL! It's just that simple! This is a perk that comes with your membership either way, so use it if you want to.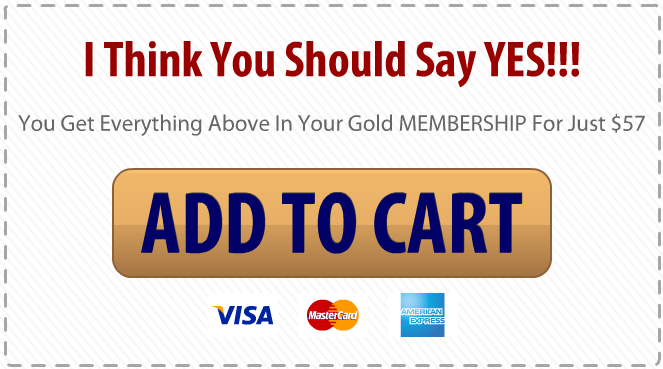 Still not sure what you want to do? I say JOIN! Give JLA A try! MEMBERSHIPS BEGIN AT 99$ MONTH
YOU WILL SPEAK TO YOUR LIVE COACH ONE TIME EACH 45 DAYS WITH THIS MEMBERSHIP!!!
You will absolutely LOVE the kind of attention and care we give You!
Take a peek at this! Below you will clearly see that most membership programs offer WAY less than we do, and charge WAY more! Here at JLA we pride ourselves on truly providing the tools that change people's lives! There are so many wonderful programs, community members, and support to be had! You have to see it to believe it!
Cancel your membership right away if this isn't something that benefits your life IMMEDIATELY! There is no penalty for cancelling your membership. You'll even be able to stay for the duration of the month you have already paid for! What do you have to lose? You have EVERYTHING to gain! A whole life makeover! Come on in! The water is beautiful!
Go ahead! Join today! You'll be added to the Sun Room on Facebook within the next 12-24 hours!
We look forward to guiding you this Solar Year!
To your goals!