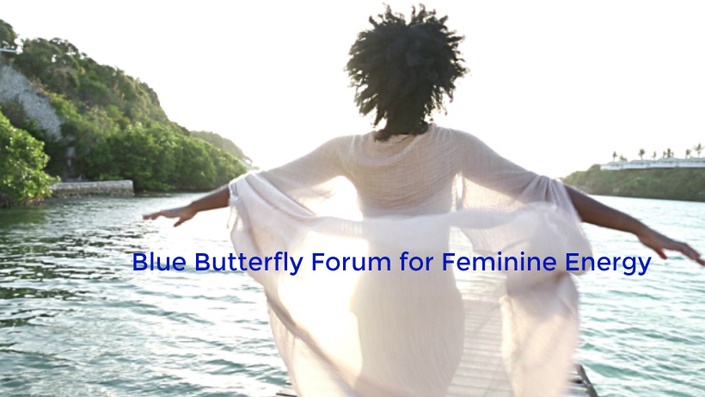 BLUE BUTTERFLY Library
BLUE BUTTERFLLY WOMEN'S GROUP
BLUE BUTTERFLY WOMEN'S GROUP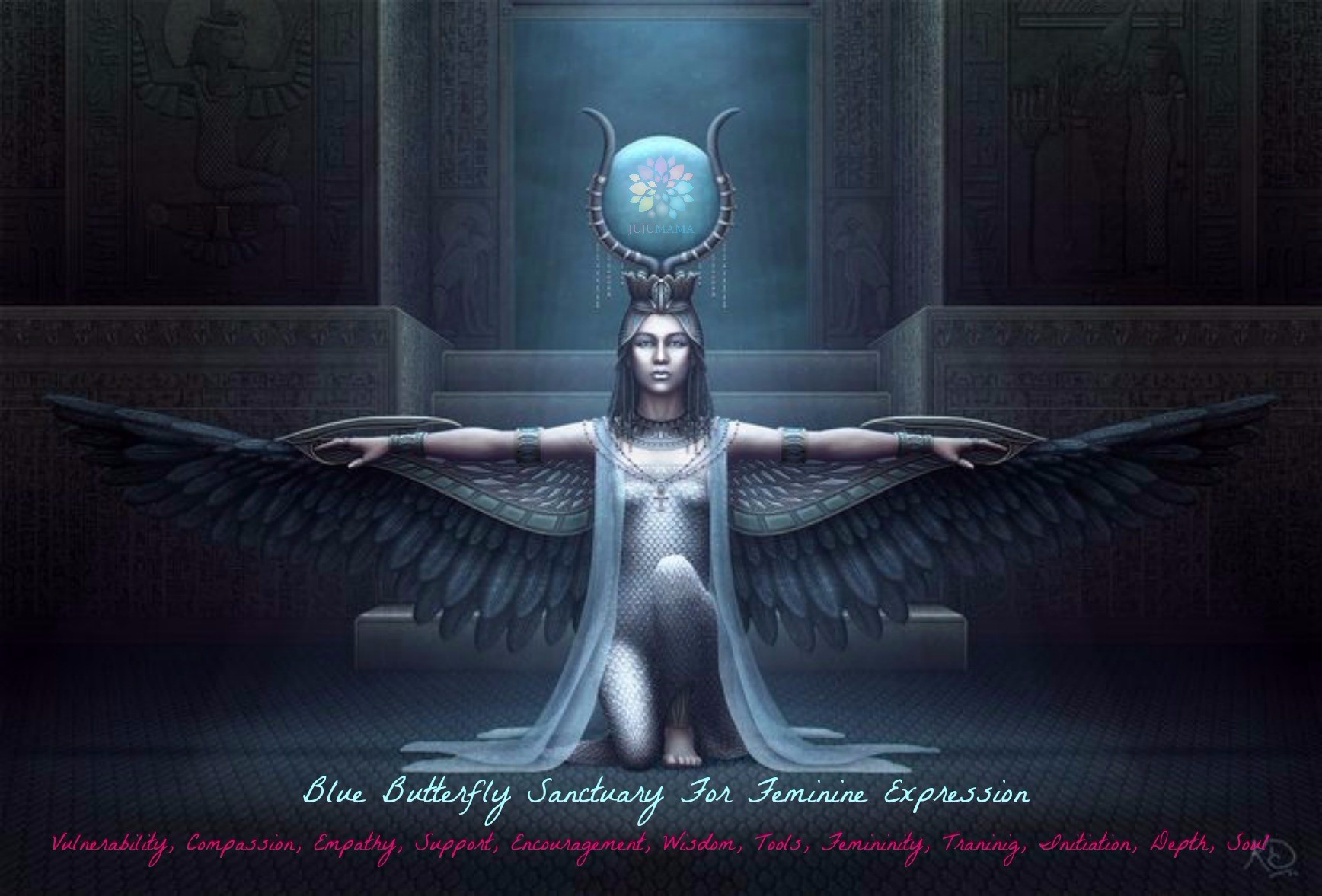 Welcome to The Sacred Order of the Blue Butterfly ~ A Sanctuary for Feminine Expression!
Tap into your natural feminine powers, and enhance your ability to utilize the goddess archetypes in every aspect of your life! The Blue Butterflies gather online daily to encourage one another in our secret Facebook group. We are women, or humans representing through the feminine energetic. We support hundreds of members from all walks of life, all nationalities, and age... BLUE Butterflies can be found worldwide!

Blue Butterfly Women come together to practice the art of femininity, vulnerability and surrender!
We develop specific skills to tap innate feminine powers, as well as hone our power to

create and achieve desired relationship and financial outcomes

. All members have the same goal - to create our lives through the powerful magic of the feminine. Once you join, you will be added to a secret Facebook group called Blue Butterfly Sanctuary!
One thing we achieve here is the ability to be where we are, emotionally. We practice the divine art of Acceptance and the Zen practice of Feeling our feelings and transmuting energy. This is our daily ritual, we use trance and mirror work to support our sisters, we hold space, create containers and allow a Deep Dive into the mysteries of feminine emotive power.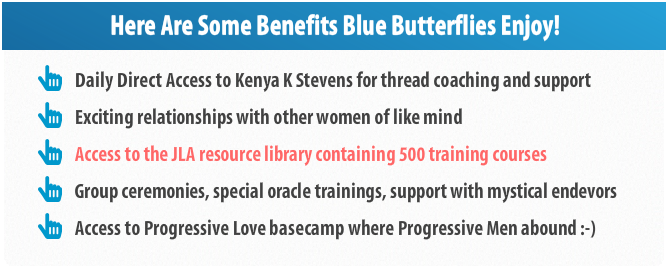 Butterfly Membership supports YOU with relationship, financial or spiritual concerns!!
We also love support your sensual development!
The group is facilitated by Kenya K. Stevens, Master Love Coach, Archetypical Priestess, and JujuMama CEO/founder.
You will instantly gain access to our live classes and Red Tents! Ask any questions and share your stories.
With this membership you also receive entrance into the JLA Resource Library plus our PL LIVE classes!

Entrance Requirement: There is an entrance interview process you'll undergo in order to cross into the Sanctuary. We protect the details of our member's lives with an interview process. Once you sign up you will receive an email about how to begin that process - it's fast! You'll be in before you know it. Thanks!

Welcome to JujuMama Love Academy!

Start Your Journey Here!
The Blue Butterfly Membership is a great place to begin your journey into the vast world of Progressive Love! If you are interested in polyamory, or just becoming more sexually free and open - this is the place for you! Many of our members are poly or wanting to transition their relationship to a poly lifestyle.
JujuMama Love Academy (JLA) is a place to discover new ways to grow in the areas of love, relationships, self-empowerment, metaphysics, and creating the life you desire for yourself. The Academy offers a plethora of tools and information to support you in achieving your personal relationship, financial, and spiritual growth goals.
All JujuMama Love Academy members have access to hundreds of Progressive Love lectures, classes, PDF files, and other resources to support you in studying Progressive Love, Gender Harmonics, Bagua Astrology, Empowerment, Tantra, Sacred Senuality, Relationships, and more...
Here's what you get with Basic Butterfly Membership:
Access To JujuMama Love Academy RESOURCE LIBRARY - 500+ videos and audios on relationships TOOLS to support your love life!
Access to TWO (2) private FaceBook groups:

WOMEN

- Blue Butterfly Women (BBW)
Meet Wonderful Women who share your outlook!


COED - Access to BaseCamp (BC)

Meet wonderful men who share your outlook!


Plus Weekly LIVE COURSES each month
If you have felt ready tof a major change in your life...
If you feel alone in discovering new love styles...
If you want to increase your orgasmic potential...
If you want to be surrounded by like minded individuals who support your unique character...
If you want sisterhood...
If you want to grow metaphysically and spiritually...
Join the Blue Butterfly Sanctuary for Feminine Expression Today!
Cancel your membership anytime!
However, most of our members have been involved with the Academy for years!
Come meet your Tribe and Thrive! Register Below!
Your Instructor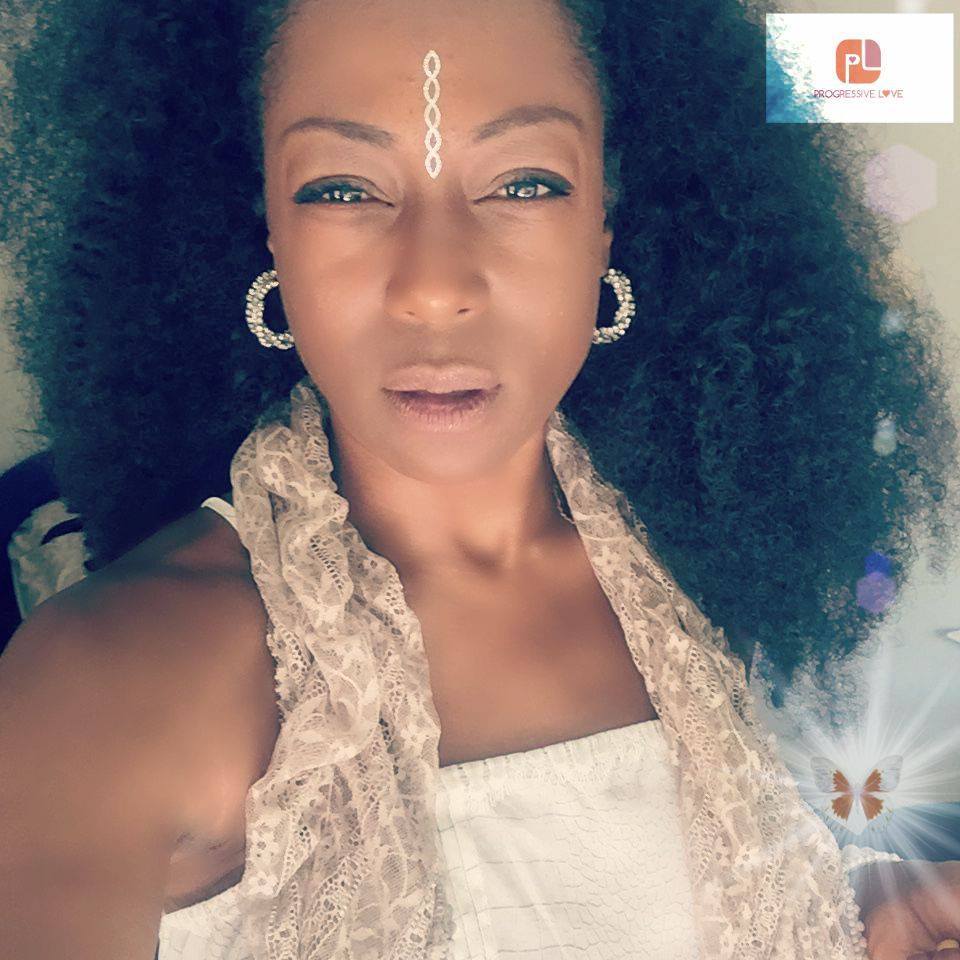 Course Curriculum
BLUE BUTTERLY SANCTUARY FOR FEMININE EXPRESSION | PROTOCOLS
Available in days
days after you enroll
ENTRANCE INTERVIEW & INSTRUCTIONS
Available in days
days after you enroll